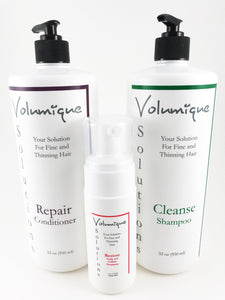 VS 3pc Hair Loss System 32oz
Stop your hair loss in 30 days! Volumique Solutions Hair Loss System is derived from some of the latest advances in cancer and wound care treatment. This Product has zero side affects and in clinical studies has proven to be 45% more effective than Minozidil. It is so effective that it stops hair loss in over 90% of users within 21 days if used 3 times per week. Comes with (1) 32oz shampoo, (1) 32oz conditioner and (1)4oz scalp and follicle treatment.
Learn How It Works:

Step 1 - Use Cleanse Shampoo
Volumique's Cleanse Shampoo unclogs stubborn pores in the scalp which removes sebum and DHT (form of testosterone called dihydrotestosterone). During this process natural nutrients in the scalp remain untouched.

Step 2 - Apply Repair Conditioner
Volumique's Repair Conditioner calms the scalp with antiseptic and antibacterial. This lightweight moisturizer will leave your hair feeling soft and full of volume.

Step 3 - Apply Restore Treatment
Volumique's Restore Scalp and Follicle Treatment helps to eliminate hair loss while stimulating new hair growth.
---
We Also Recommend
---